1.Design automatic machine
Showing all 10 results
Conveyor system
Automatically transport pallet into the storage.

Decrease workers and save time.
SPECIFICATIONS
EXTERNAL DIMENSION (W x D x H):  :   14000x2200x240

WEIGHT (Kg):                                            2100

VOLTAGE (V):                                           220

POWER (kW):                                           17

AIR PRESSURE (MPa):                            0.5
Read more
Read more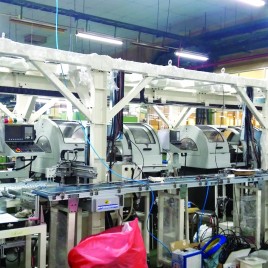 Denso Robot system
Robot system automate operation sections such as: Awash, inspect and link to 3 lathe machine use in sewing industry.

Decrease 8 workers by homogeneous structure.
SPECIFICATIONS
EXTERNAL DIMENSION (W x D x H):  :   8250x2650x2780

WEIGHT (Kg):                                            1250

VOLTAGE (V):                                           220

POWER (Kw):                                           17

AIR PRESSURE (MPa):                           0.5
Read more
Pressing machine
Used to bend, press and clamp 2 components.

Use in car component production sector.

Automatically inspect pressure power and classify OK/NG products./NG
Dimension : 1200 x 700 x 1600

Weight:   800 KG

Voltage:  100v – 200v

Power :   0.75 KW

Air pressure:  0.5 MPa
Read more
Bonded inspecting machine
Automatically inspect the outside of products

Products were provided by Part Feeder

Inspecting method by image handling camera

Count quality of OK/NG products, then pack OK products

Productivity: 3600pcs/h
specifications:
External dimension (w x d x h):   1850x800x1500

Weight (kg):                                  600

Voltage (v):                                   220

Power (kw):                                   0.3

Air pressure (mpa):                       0.5
Read more
Product inspecting machine
Automatically inspect dimension of products.

Products were provided by Part Feeder.

Count quality and classify OK/NG products.span

Capacity: 1200 pcs/hour
specifications:
External dimension (w x d x h):   850x850x1560

Weight (kg):                                 350

voltage (v):                                   220

Vower (kw):                                  0.3

Air pressure (mpa):                      0.5
Read more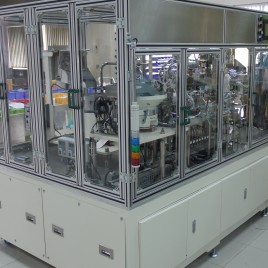 Automatic Assembly Machine
Automatically assembling tube using in medical.

Products were provided by Part Feeder, measure dimension of products by sensor and identify NG/OK products.

Capacity: 1000 pcs/hour
SPECIFICATIONS:
External dimension (w x d x h):  :   3800x1480x1750

Weight (kg):                                    1500

Voltage (v):                                     220

Power (kw):                                    0.3

Air pressure (mpa):                        0.5
Read more
Product washing machine
Machine used to wash and dry metal products.

Use high-pressure spraying squirt.

Temperature of squirt is up to 80°C

Capacity: 10 minutes/time (belong to type of product)
Specifications:
External dimension (w x d x h):  :   1710x1040x2310

Weight (kg):                                     200

Voltage (v):                                      220

Power (kw):                                     2.2

Air pressure (mpa):                         0.5

Pump pressure: 0.8 MPa

Spraying flow: 100L/min

Heater: 10Kw

Box material SUS304

Use oil absorbent system

Use BNG Filter
Read more